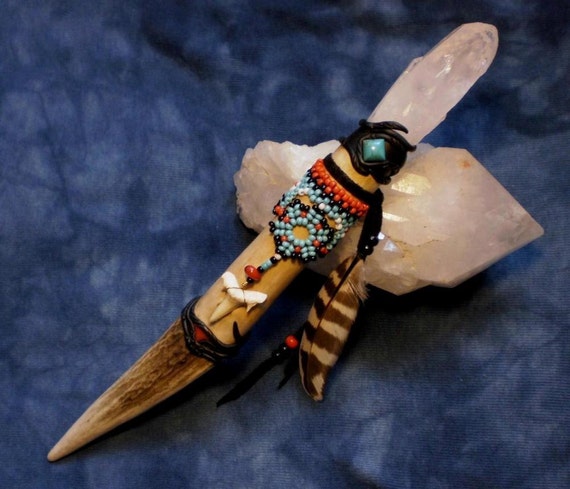 I have been saving this one for quite sometime. This piece is just mesmerizing to me. This has a Holly wand shaft sandwiched between an antler tine and a large quartz. But even if it did not have the Holly it would have made it on this website. Just stunning! Created by DreamWeaverSpirit. This is they have to say about this magickal piece:
A beautiful and magical Native American inspired wand. I have stripped, sanded and waxed a beautiful piece of Holly.( I wanted to leave some of the colour and markings so I didn't sand it down completely). I have attached a piece of shed antler and a rough quartz crystal with epoxy resin, and I have created the design around the turquoise cabochon and coral with epoxy putty. The round beadwork is flat circular herringbone stitch and I have beaded around it using peyote stitch. Hanging off the beadwork is a shark tooth and behind the tooth you will find what looks like the navel (belly button)of the wood. This wand practically made itself, it measures 8″ and has a lovely energy. A beautiful and powerful wand to work with when connecting to the ocean and attuning to the creation of life.

METAPHYSICAL ATTRIBUTES:

Holly is a very fiery and protective wood. It is used for increasing spiritual strength and has life giving and creative properties. It is also associated with dream magick and fertility and is said to to protect us from anything that isn't unconditional love.

Quartz crystal is used for scrying, it stimulates psychism and amplifies spiritual power.

Turquoise is said to attract luck and happiness. It also helps with self expression, creativity and stimulates the throat chakra.

Coral is said to quiet the emotions and brings peace within. It helps us to both understand and use the qualities of the mystic, facilitates intuition, imagination and visualization. It is also said to attract love and beauty.

Sharks are called upon for protection and for accessing the unconscious mind. Shark is a very powerful totem to have. They teach us to swim the path of least resistance and to go forward driven by our primal instincts. They symbolise transition as they are constantly renewing themselves. Shark people are efficient, dynamic, knowing, and powerful.

Antler/Stag helps us recconnect with nature and our instinctive and intuitive personality. It also represents strength, power and fertility.

Turkey (feather) teaches us how all life is sacred and we must learn to give and be grateful for what we have.