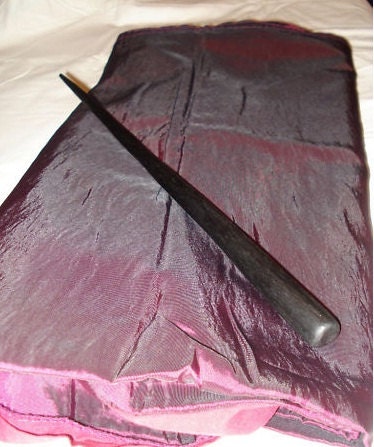 This is one of those posts which was an internal fight on whether or not to post. Why? Because I want one for myself! This is not a fancy wand. This is not even the picture of the wand the you most likely would be receiving! It is a picture of a sample of a Bog Oak Wand that you can purchase from BlinkMoreBogOak Shop of ETSY. And yes I do make a lot of finds on ETSY, even when I try to not to. It is just my luck that ETSY has a great group of wand makers with online stores and  good picture quality.
Back to this Bog Oak Wand! This is very nicely priced. What you are paying for is the very old wood crafted into a simple wand. In particular, very old oak wood from an Irish bog that has been preserved for thousands of years. Letting you to basically pull your hand through time to work with an ancient wood piece. Hold this ancient piece of wood and use it as a magical tool. Oak being very spiritually strong; the connotation is that it is even more spiritual because, it came from a time when trees were worshipped and believed in.
I feel very generous today in sharing this Bog Oak Wand with you and really hope you do not buy it. Especially at their great price of 25 EUROs! Directly from Ireland!