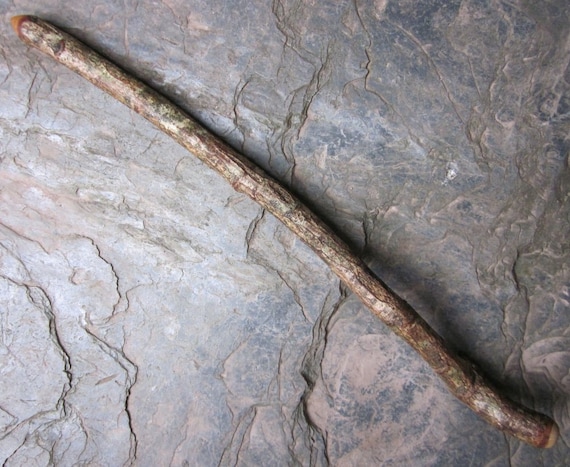 Beautiful Natural Wand by  Mazedasastoat:
Natural Wood Wand *English Oak* for Power!
This is a wand made from a small branch of a mature Oak tree. The limb had been broken by tractors going through a field gateway, so I trimmed it back and tidied it up so no more damage would be done to the tree. It has a relatively straight shaft, and a comfortable handle formed from a small zig-zag kink. I've left the bark intact to enhance the rustic quality, and there are numerous areas a lichen ranging from the palest khaki green through to a deep sooty black. There are several leaf scars along the shaft, but no knots that break the bark except for one close to the handle.The xposed wood has seasoned to the rich colour known universally as "Medium Oak" and is glass smooth beneath your fingertips.
I think this wand has rather a quiet and calm feel, not at all the somewhat authoritarian air that is so common in Oak. It seems friendly but rather aloof, although that probably just means it's holding itself in reserve for it's rightful owner. I believe it would suit almost anyone, man or woman, young or old, experienced practitioner or complete novice.
Oak is known for its properties of strength and endurance, and can provide strong protection. It is excellent for magic to do with power or dominion, and can be helpful in spells to do with prosperity.
Size: About sixteen inches long and just over five eighths of an inch thick.
408mm x 18mm.
It will come with a list of the magical properties of the wood, a picture of the actual wand, consecration suggestions and care instructions.
Please be aware that some countries do not allow the importation of any wooden items that still have the bark attached. It is up to you to ensure that an item is not in breach of the customs regulations of your country before you buy.
For a full list of the woods I might have available, as well as their magical properties, associated folkore and a bunch of other stuff, check out my blog at: http://www.mazedasastoat.blogspot.com/